A beacon is a block that, when powered, can project a beam of light in the sky.
Obtaining
Beacons cannot be found naturaly. They can be broken with hands, or with any tool.
Usage
Beacons can give off status effects when the player is within range of the it, however the range of the beacon and the strength of the status effects depends on the size of the pyramid.
Activation
In order to activate a beacon, it must first have a clear view of the sky. After this the beacon must be placed on top of a pyramid.
Pyramids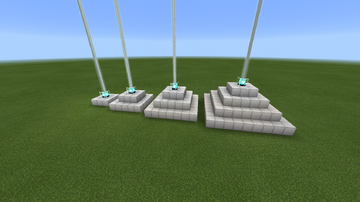 Pyramids are what are required to activate a beacon. They can be made of iron blocks, diamond blocks, emerald blocks, or gold blocks. The type of block you use does not affect the strength of the status effects from the beacon, and because of this, it is recommended that you use iron blocks, since it is easy to find and the most readily available. You can also mix-and-match the blocks to create a variety of pyramids. Although the blocks you use doesn't affect the beacon, the size of the pyramid does.
Crafting
1 Nether Star + 3 Obsidian + 5 Glass = Beacon
Ad blocker interference detected!
Wikia is a free-to-use site that makes money from advertising. We have a modified experience for viewers using ad blockers

Wikia is not accessible if you've made further modifications. Remove the custom ad blocker rule(s) and the page will load as expected.